Picoscope 3000 series
PicoScope 3000 Series offers the highest performance available from any USB-powered oscilloscope on the market today.

2 Channels and external trigger
200 MHz bandwidth
128 MS buffer size
500 MS/s real-time sampling
10 GS/s repetitive sampling
200 MHz spectrum analyser
Built-in function generator/AWG
USB-connected and powered
Oscilloscope - Vertical
Model
PicoScope 3204A/B
PicoScope 3205A/B
PicoScope 3206A/B
Bandwidth (-3 dB)
60 MHz
100 MHz
200 MHz
Rise time (calculated)
5.8 ns
3.5 ns
1.75 ns
Input channels
2
Vertical resolution
8 bits
Enhanced vertical resolution
12 bits
DC accuracy
±3% of full scale
Input sensitivity
10 mV/div to 4 V/div (10 vertical divisions)
Input characteristics
1 MΩ ±1% in parallel with 13 pF ±1 pF
Picoscope 5200 range
Much higher bandwidth, sampling rate, memory depth and an arbitrary wave generator. All of those features make Picoscope 5200 a powerful oscilloscope that can replace the old benchtop oscilloscope and introduce you to the modern era.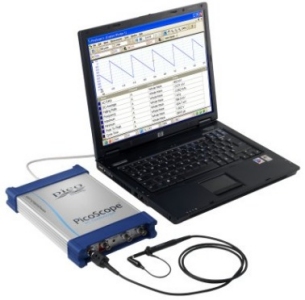 250 MHz bandwidth
1 GS/s real-time sample rate
128 Megasample buffer memory
Arbitrary waveform generator
Oscilloscope - Vertical
Model
PicoScope 5203
PicoScope 5204
Bandwidth (at probe tip)
250 MHz
Rise time (calculated)
1.4 ns
Input channels
2
Vertical resolution
8 bits
Enhanced vertical resolution
12 bits
DC accuracy
±3%
Input characteristics
1 MΩ in parallel with 15 pF